It goes without saying that poker has influenced modern culture in a number of different ways. The game itself is alluring and highly entertaining which makes it a great way to pass time both as a player and an spectator. Now, if you are looking to take an even deeper dive into the world of poker then you would do yourself a great service by finding some cinematic depictions of the game. For that, here is a list of the best poker movies that have been very accurate at depicting the tension, thrill and competitive format that is associated with real-life poker:
1. Rounders
Rounders, 1998
This 1998 gem has been credited for the poker boom that we have experienced over the last few decades and this is for good reason. Not only is Rounders entertaining and well-made but it also manages to portray the fast-paced nature of the poker game – this aspect alone has been the reason why so many people have been compelled to try out poker.  With the star power of Matt Damon and Edward Norton, viewers are treated to different kinds of poker gaming action including Force Rotation and No Limit Hold'em. Also, as its name suggests, it involves the protagonists traveling around looking for high stakes poker games to get a shot at some big wins. This is the poker dream for almost every poker fan.
2. The Cincinnati Kid
The Cincinnati Kid, 1965
Starring Steve McQueen, this 1965 poker movie serves as both a period film and a hell of a poker film all rolled into one mind-blowing package. In essence, it is a classic poker movie that has a little bit of everything while simultaneously managing to deliver on portraying the fast-paced nature of the poker world and delving into the nostalgia of poker culture. In general, the Cincinnati Kid is a coming of age story that will definitely inspire aspiring poker players to begin pursuing their interest in the game more passionately.
3. Casino Royale
Casino Royale, 2006
Released in 2006, Casino Royale is among the most popular and best poker movies. While it is undeniable that the Agent 007 James Bond film treats movie lovers to an action-packed story of a spy on an exciting mission to stop dangerous villains, the movie does not disappoint in as far as the poker action is concerned. In fact, this can be said to be the perfect spy movie as Mr. Bond has to not only keep his cool but also master his poker face both at the poker tables as well as in his adventures. Daniel Craig outdid himself on this one – both film and poker fans seem to agree on this.
4. Freeze Out
Freeze Out, 2005
Now, movies are often all about taste but for the die-hard filmgoers who want super accurate and authentic portrayals of the attitude of the poker players and the game of poker, look no further than 2005's Freeze Out. To make it even more interesting, the movie received a 7.9/10 rating which is pretty impressive for an independent film. Furthermore, the director reportedly paid for the film using money that he made playing poker. With all that dedication, the film definitely does not disappoint.
5. Maverick
Maverick, 1994
Maverick is a 1994 action and comedy remake of a TV show that aired in the 1950s. It features performances from stars such as Mel Gibson, James Garner, and Jodie Foster. Also, it is set in the Old West and follows the titular character in his quest to prove that he is the greatest poker player of his time. As expected, there is plenty of gunshots and, of course, very exciting poker action which makes it one of the best poker movies in existence.
6. High Roller: The Stun Ungar Story
High Roller: The Stu Ungar Story, 2003
Released in 2003, this movie depicts the real-life journey of Stu Ungar who was the youngest player to ever win the World Series of Poker Main Event. Since it is a biopic, it might appeal to many poker enthusiasts since it is a reminder that everyone is capable of making something out of their lives. The actor who portrays Ungar nailed the role and managed to show how much of a genius the poker legend was at the poker tables. Besides all that, it also highlights some of the struggles of poker players and any other person who is constantly in the limelight.
7. Lock, Stock, and Two Smoking Problems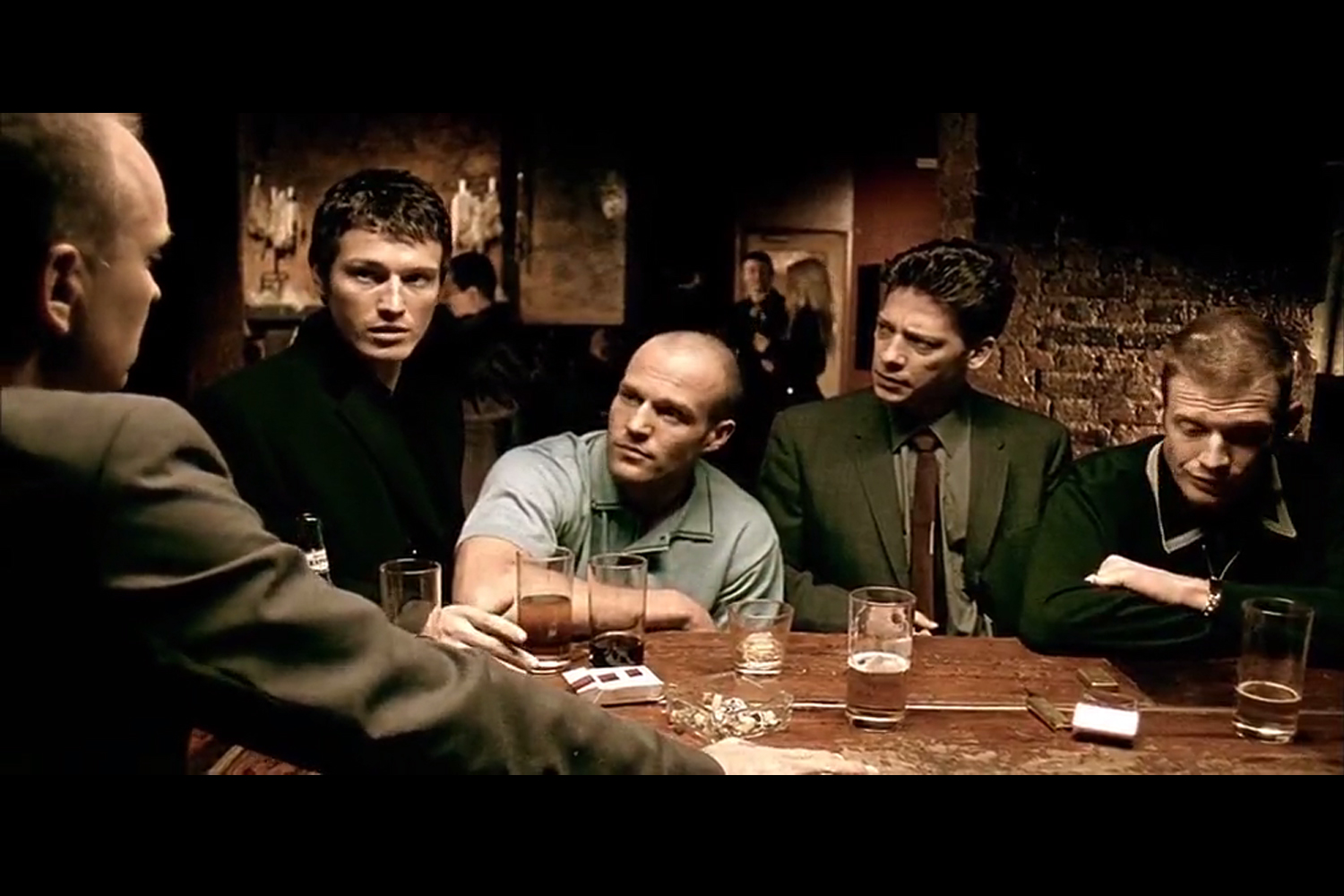 Lock, Stock, and Two Smoking Problems movie, 1998
This 1998 movie was directed by Guy Ritchie and is a crime comedy of sorts that blend a lot of unique aspects. It tells the story of a group of friends who lose a huge sum of money in a game and are forced to resort to other means in order to pay the money back. The movie is harsh, to say the least, but this because its intention is to show the darker side of the game as well as the risks involved. It is definitely a must watch for any person who plays poker for real money.
8. Ocean's Eleven
Ocean's Eleven, 2001
With a star-studded cast that includes Matt Damon, Brad Pitt, and George Clooney, this movie was a box office success when it was released in 2001. Ocean's Eleven is a heist movie and nothing makes a heist movie more interesting than a poker game – the group of accomplices intend to rob three Las Vegas casinos and to pull it off, they have to indulge in some good old-fashioned poker action.
9. 21
21, 2008
In this 2008 film, a group of MIT students and their professor break the poker tables in Las Vegas using a card-counting system. It is perhaps one of the best depictions of how poker is a game of wit and skill rather than luck. 21 is a captivating story of the darker side of the world of gambling but also a mind-blowing tour of some of Las Vegas' best poker rooms.
10. Molly's Game
Molly's Game, 2017
Molly's Game was released in 2017 and is the most recent movie in this list but this does not mean that it is lacking in any way. In fact, it is a biopic that tells the captivating and mind-blowing story of Molly Bloom, a stunning lady that managed to run one of the world's most private high-stakes poker games for a decade before getting caught. Now, that is impressive! The movie goes even further to showcase some of her clientele who included some of the top personalities in sports, media, and business. It is not only one of the best poker movies but one of the best biopics in general.